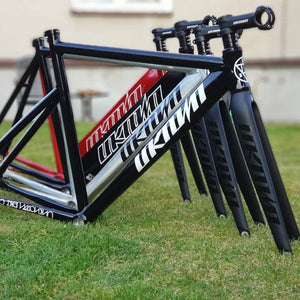 What frame size should I get?
One question every cyclist made at least once in their riding life is: "What frame size should I get"
Getting the right sizing seems to be a mix of black magic and exact science. With so many different guides online and formulas, it's easy to get discouraged when riding this road.
Choosing the right frame size is really important, after all, no one wants to look like a grown man on a kids bike or vice-versa. The comfort of your ride will most of the time depend on the right fitting even more so than the right saddle or the type of handlebars you are riding on.
The bike geometry can also change the preferable frame size. For example, in most cases, I will ride a frame size 56, on my Unknown Singularity, due to it's compact and aggressive geometry I ride on a 58.
The seat tube will define how high your saddle post will have to go for the final adjustment to make sure your hips are not rocking side to side with every pedal stroke.
The right length of the top tube will guarantee the right curvature of your back while riding and avoid lower back pain, which may pass by on a short commute but on a long ride or during a race that's something no one want to have it constantly in their mind.
For those really decided to have the best fitting possible there are several bike shops and frame builders that will do a bike fitting to make sure you are riding on the perfect measures. But we don't need to spend money to bring our riding closer to perfect on our own. Get a measuring tape and ask your girlfriend to help you out. Measure your inseam, arms length and high and throw it on an online calculator, you will see that the quality of the riding will improve considerably and hopefully you won't need to buy a new frame, not that a new bike is a bad thing anyway.

---