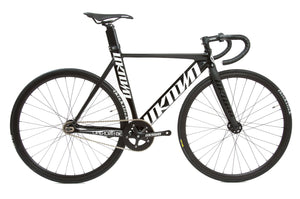 Introducing the new revised Unknown Singularity a premium fixed gear track bicycle
Unknown Singularity is a premium fixed gear track bicycle that was introduced a couple of years ago and was previously known as LV that made its debut back in 2011. This time we stepped up the game with upgraded 6066 aluminum tubing, improved the geometry, carbon alloy fork new graphics and new colors.
Unknown Singularity is a track-oriented fixed gear bicycle that incorporates aero seat post for better airflow and it further compliments the frames' bad ass looks. For the European market, all of the Singularities are sold with carbon alloy fork. You can also get a limited edition that features JDX43 carbon fork (more about this fork here).
All of the other components are made directly by Unknown. A few that stand out are the wheelsets that run on hubs that are based on our infamous super smooth mushroom hubs. The bike comes with Unknown drop bars and both brakes.
Unknown Singularity size 55 bike weights only 7.5 kg without pedals.
Pedals with foot straps are included in the price.
You can find out more about our bikes by clicking on the logo below 
Unknown Bikes Europe is the official source of Unknown bicycles, frames, components and other accessories for every fixed gear rider throughout Europe. We build premium fixed gear and single speed bicycles with great passion.
---