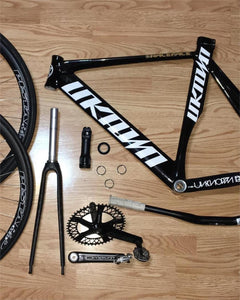 Fixed gear bicycle parts upgrades that will have the biggest impact
There are several fixed gear bike parts that you can upgrade to improve your ride experience and performance. Some of the most impactful upgrades include:
Tires: Upgrading to high-quality tires with good tread can improve your traction and handling on the road. Consider tires with puncture-resistant technology or a more aggressive tread if you plan to ride on rough or wet surfaces.

Wheels: Upgrading to lighter, stronger wheels can improve your acceleration and handling, as well as make your bike more responsive. Look for wheels with high spoke counts and durable rims to ensure they can withstand the rigors of city riding.

Crankset: The crankset is the part of the bike that connects the pedals to the chain. Upgrading to a stronger, more efficient crankset can improve your power transfer and overall performance. Look for cranksets with durable materials and a good chainline to maximize your efficiency.

Handlebars: Upgrading your handlebars can improve your comfort and control on the bike. Look for handlebars with a more ergonomic design or ones that are made from lightweight materials to reduce fatigue on longer rides.

Saddle: A comfortable saddle is essential for long rides, so upgrading to a saddle with more padding or a more ergonomic design can make a big difference in your ride experience.

Pedals: Upgrading to high-quality pedals with good grip and a smooth action can improve your power transfer and overall performance. Look for pedals with sealed bearings or adjustable pins to ensure they last longer and provide a smooth ride.
By upgrading these key fixed gear bike parts, you can improve your performance, comfort, and overall ride experience.
---