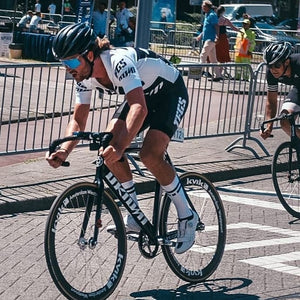 5 Reasons to ride a fixed gear bike
In the past, fixed-gear bicycles were widely used by cyclists during their winter preparations and the truth is that the explanation is quite convincing.
On a track bike or fixed gear, you can never stop pedaling. So the theory says that you have to work all the time; not having free sprocket means not loitering. Riding a stationary bike means that you take full advantage of the time you spend on the bike and time is something that in winter is usually limited.
A fixed gear all reaches another level, accelerating from scratch will make you develop power, the condition of not stop pedaling will never cause you to gain resistance and when you have to brake you will have to apply the retention of your legs, so you will develop good muscles in your chicken legs
Your instincts and abilities will be increased since having only your technique and the strength of your legs to stop you will have to develop different types of movements to stop in time. Retention, eses, skidding ... You will have to be alert with obstacles, cars, traffic, traffic lights ... that will make you faster and your senses will become more acute, for the account that brings you.
Your feet and the rear wheel are connected without hardly losing an iota of force along the way. This means that you will feel the bicycle as an extension of your own body, getting to know every millimeter, each piece and each vibration or torsion that occurs in it.
---